Previous concert (The Figgs) ... Next concert (Grand Slambovians)
Gandalf Murphy and the Slambovian Circus of Dreams ~ 2013 February 16 ~ Iron Horse Music Hall ~ Northampton, MA
Band Personnel: Joziah Longo, lead vocals, guitar, mandolin, harmonica; Sharkey McEwen, lead guitar, mandolin, backing vocals; Eric Puente, drums; Tink Lloyd, accordion, ukulele, melodica, cello, tambourine, backing vocals; Michael Polito, acoustic and electric 6-string bass ... also known as The Grand Slambovians
Grand Slambovians - Picture - Very Happy Now - Very Unusual Head - Box of Everything - A Good Thief Tips His Hat - Lost Highway - Genius ... intermission ... Windmills - Living With God - The Great Unravel - Northern Sea - Trans-Slambovian BiPolar Express ... encore ... The Invisible
Scroll down past the videos for review; click to the right for photo gallery.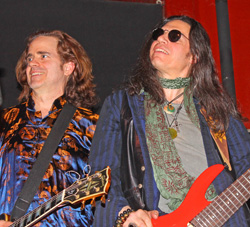 Sharkey McEwen with
new bass player Michael Polito
Click on the picture
to see a photo gallery of the concert
"Lost Highway":
"Great Unravel":
One week ago New England was struck by a major winter storm, so when the forecast for this weekend included snow, Concert Going Partner and I rolled our eyes and packed a snow shovel along with our overnight bag.
There were about fifteen hardy concert goers in line when we arrived at the Iron Horse. We were able to listen to the band sound checking inside while waiting, and heard a couple of songs not recently played.
The Iron Horse is everybody's favorite western Massachusetts venue. The stage is just roomy enough for this band, if nobody gets too frisky during the concert. It's a couple of feet high, high enough to give good sightlines for everyone even in the back. There is an upstairs with tables along the balcony railing, also affording a good view. The venue serves reasonably priced pub food and the servers are efficient, despite the challenge of having to bring food to a couple of hundred people in about a half hour.
Tonight's treat was the presence of a bass player, a certain Michael Polito, whom the band met when he took some publicity photos of them a few years ago. Photography is his real job, but he's also a fantastic bass player, and played a stand-up acoustic bass as well as an electric bass with six strings. Michael has an exotic look with his long flowing black hair and stylish stage clothing including bracelets and bling. I believe this was his second gig with the band (first being last week's show at the Tupelo Music Hall in White River Junction, VT). It was a real treat to hear a handful of the older songs that have been retired out of the Slambovian set list since the last time one of the Longo twins, either Chen or Orien, played bass in the band. These songs were "Genius," "A Good Thief Tips His Hat," and (my favorite of the group) the wonderful "Living With God." They also played "Lost Highway," a sissy song from the most recent album, The Grand Slambovians.
The band mentioned that there has been interest from a major label in a Grand Slambovian anthology. Joziah also said that in the early months of 2012 he and the rest of the band did some work on three new albums, while the band were taking a hiatus from live performing after Tony Zuzulo's departure from the band. Joziah seemed to think that the anthology album is likely to happen, and the three band albums are not, at least not for a while. One of the three "band" albums was actually going to be a Joziah solo record, containing songs that are too weird even for the Slambovians. Tink solicited opinions from the audience as to what we think should go on a Slambovian anthology.
The merch table, staffed as usual by Cindy, had a new item for sale; scarves and hats designed by Tink herself and a friend of hers who is a craftswoman. Tink wore one of the hats, in red, that you can see in the picture gallery. The hats are beautiful and quirky, just what one would expect from the Queen of Slambovia.
The show was somewhat abbreviated since the Iron Horse had booked a second show for 10:00 pm, thus the band had to be efficient about breaking down their equipment and heading out to their next destination.
Interested in my other Circus reviews? Here is a page with a handy list of links to all pages on this website with Slambovian content.
Click for 2013 Concert Page with links to all 2013 concerts ... Click for Main Concert Page with links to all years
Previous concert (The Figgs) ... Next concert (Grand Slambovians)