Previous concert (The Grand Slambovians) ... Next concert (Willie Nile)
Gandalf Murphy and the Slambovian Circus of Dreams ~ 2013 February 17 ~ Tupelo Music Hall ~ Londonderry, NH
Band Personnel: Joziah Longo, lead vocals, guitar, mandolin, harmonica; Sharkey McEwen, lead guitar, mandolin, backing vocals; Eric Puente, drums; Tink Lloyd, accordion, ukulele, melodica, cello, tambourine, backing vocals; Michael Polito, acoustic and electric 6-string bass ... also known as The Grand Slambovians
Grand Slambovians - Picture - Very Happy Now - Very Unusual Head - Box of Everything - A Good Thief Tips His Hat - Lost Highway - Genius ... intermission ... Windmills - Living With God - The Great Unravel - Northern Sea - Trans-Slambovian BiPolar Express ... encore ... Happy Days Are Here Again - The Invisible
Scroll down past the videos for review; click to the right for photo gallery.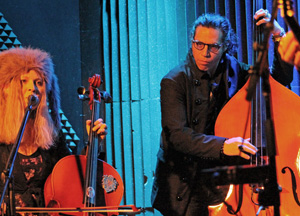 Tink Lloyd on cello
new bass player Michael Polito on standup bass
Click on the picture
to see a photo gallery of the concert
"A Good Thief Tips His Hat":
Off to the former apple orchard country of Londonderry, NH and the Tupelo Music Hall, situated in a long rambling building, on the basement level. This show had been scheduled originally for last weekend, but was rescheduled due to last weekend's blizzard. Every time we've been to this venue, the floor setup has been different. Sometimes they put out rows of folding chairs, sometimes there are tables, and sometimes the seats are reserved, and sometimes it's general admission. This time there were tables, with reserved seats. Although I usually prefer a general admission concert (since all you have to do to get a seat up front is get there early), today I was glad not to have to wait outside in the bitter cold.
The stage is bigger than at the Iron Horse, but lower to the ground. The backdrop of the stage consists of a ridged acoustic material that looked very pretty, with different colored lights illuminating different sections, very nice for picture taking. The different colored lights reminded me of the atmospheric and mood-enhancing light shows that the Circus used to employ at some venues, and I wonder if the current line-up has any thoughts of bringing back those light shows. The Tupelo has a food concession where one can purchase a sandwich and a drink and take it back to one's table, which is both convenient for concert goers and efficient for the venue.
The band played exactly the same first set as last night at the Iron Horse, which one would expect when there is a new band member (although bassist Michael only played on about half the songs). At the Horse he had spent the night watching Sharkey's hands on his guitar, with the occasional glance over toward Eric on drums, to help him with the flow of all this new music. Tonight he was looking considerably more comfortable and the songs flowed with more smoothness. Of course, a typical Slambovian concert jumps around all the time, with Joziah's witty and meandering stage banter being the great unknown variable.
Tink again wore one of her custom made hats, this time a more understated beige color. It looked very warm. She said that the red ones, like the one she wore yesterday, were designed for Valentine's Day.
It was exciting to hear the old songs that need a bass, like last night, and you could tell the band (particularly Sharkey) were having fun playing them. They also included two brand-new songs, the unreleased "Very Unusual Head" and "Box of Everything." I personally hope that the rumored anthology doesn't interfere with the band releasing a new album, but it is certainly very exciting to have them receiving this kind of well-deserved attention from a real record label. If I had any influence in Slambovia (which I don't), I'd suggest they put out the anthology on vinyl, with a bonus 2-sided single of those two new songs.
The band took what seemed to be a longer than usual intermission and played what seemed like a short second set, but Joziah did toss in an impromptu "Happy Days Are Here Again" as part of the encore, before leaving us with the beautiful "The Invisible." Joziah has taken to encouraging singing along to that song; the part where Sharkey and Tink sing backing vocals is very beautiful, with Tink's wistful voice soaring to the heavens in a very sweet harmony.
Interested in my other Circus reviews? Here is a page with a handy list of links to all pages on this website with Slambovian content.
Click for 2013 Concert Page with links to all 2013 concerts ... Click for Main Concert Page with links to all years
Previous concert (The Grand Slambovians) ... Next concert (Willie Nile)