Previous concert (Dave Davies) ... Next concert (Dave Davies)
Dave Davies ~ 2013 May 31 ~ Infinity Music Hall ~ Norfolk, CT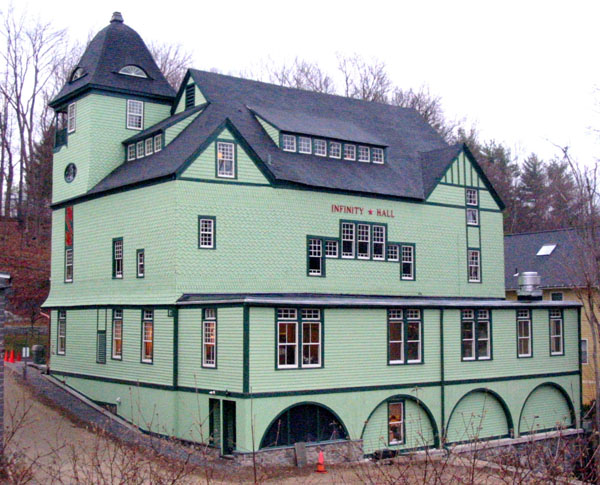 Infinity Music Hall
Band Personnel: Dave Davies, lead vocal, electric and acoustic guitar; Jonathan Lea, guitar and bass guitar; Teddy Freese, drums and backing vocals; Tom Currier, bass, keyboards, and backing vocals
[on electric guitar:] I'm Not Like Everybody Else - I Need You - Little Green Amp - Creepin' Jean - Tired of Waiting - See My Friends - [on acoustic guitar:] a few bars of Rock 'N Roll Cities - Death of a Clown - This Man He Weeps Tonight - Healing Boy - a few bars of Susannah's Still Alive - Young & Innocent Days - Flowers in the Rain - [on electic guitar:] Living on a Thin Line - Where Have All the Good Times Gone? - Remember the Future - All Day and All of the Night ... encore ... Milk Cow Blues - I Will Be Me - You Really Got Me
My second Dave.2 show took place at the Infinity Music Hall in Norfolk, CT. If you thought last night's venue, the Bull Run in Shirley, Mass., was in the Middle of Nowhere, you are in for an awakening. The middle-of-nowhereness of Infinity makes Shirley, Mass. look like a bustling metropolis. Infinity is located on a country road, Rte. 44, that begins its journey peeling off from Rte. 91 in Hartford, CT and then passes through what seemed like 200 stop lights. Some of those stop lights were randomly placed in the middle of the road where there weren't even intersections. Anyway, we got to the venue eventually. I've been to several shows at this venue and knew that the first row is just too close, due to the height of the stage, and we wound up in the best possible seats, second row toward the right side of the middle section.
I think many concert goers in this tour wanted to know if Dave would still be any good. Many fans have been raving, on Facebook and other places, about how great these shows have been. I think they are misrepresenting the shows, out of excitement and enthusiasm over the Return of Dave. Dave can still sing well, and he can still play the guitar well. But he is missing the extraordinary top end of both of those skills that used to make his performances so powerful. On many of the slower songs in particular his voice has been very rough, and you can see the great effort he is investing to try to make his voice sound the way he wants it to sound. He has also turned most of the complex guitar playing over to Jonathan Lea. He was already doing that to some extent even during the Dave.1 years. Jonathan's responsiveness to Dave and his native skill are among the elements that are making these shows work.
Although Dave has lost some of his skills, what he has retained are his personality and sense of humor, and of course he still has the incredible body of work, the Kinks katalog as well as his own extensive solo material, to draw from. One of the new songs, "Little Green Amp," reprises the riffs from the early power chord songs while telling the story of being a kid creating music in the front room, to the dismay of the neighbors! Another is a loving tribute to a grandson, "Healing Boy." Tonight Dave also treated us to two other new songs, "Remember the Future," and the new album's title track, "I Will Be Me." I haven't listened to the new album yet but judging from these four songs, Dave's songwriting is another skill that is still intact, and in fact, possibly better than ever.
Tonight at Infinity was a much better show than last night at the Bull Run. It was longer, 18 songs. In general, Dave seemed more relaxed and more "into" performing. Given the nightmare 3-hour delay in getting to last night's show, and the fact that Dave apparently was somewhat under the weather with simple hay fever, there was no surprise that last night's show was weak. I was very pleased to see the great improvement in the performance tonight, because after last night I was sincerely worried that Dave wasn't ready to return to live performing. But, after tonight I can say, he is ready, if the fans are ready to cut him some slack, and from what I've seen, they are more than ready. Tonight a very young woman came up on stage to sing "Death of a Clown" and told Dave that she and her twin sister share his birthday! She was adorable. Unfortunately due to the venue's stupid no cameras policy, I have no pictures.
These Dave.2 shows are making full use of an acoustic set in the middle of the show, during which songs Dave plays an acoustic guitar, Tom Currier switches from bass to electric piano for a few songs, and Jonathan Lea plays bass while Tom is on the keyboards. That acoustic set has always been a favorite part of the show for me.
One change in Dave that I can see is he's a lot more willing to take requests. He actually tried a few lines of "Rock 'n' Roll Cities" (a song he never played in the Dave.1 years) in response to shouting from an audience member, and he did play a verse or two of "Susannah's Still Alive" in response to another shouted request. Whereas yesterday he had played nothing from his solo material prior to the I Will Be Me songs, tonight he added in the touching "Flowers in the Rain" from his 2002 album Bug. The singing was rough; but I appreciate him trying.
With the exception of Jonathan Lea, whose guitar playing is a crucial element of these shows, this is an entirely new band. I personally miss the Dave.1 touring band, and I wonder whether it was a wise choice for Dave to use an entirely new rhythm section, instead of working with musicians with whom he'd worked for many years and had developed such a rapport.
This venue, the Infinity Music Hall, is housed in an incredibly impressive old Victorian theater, where Mark Twain performed. It is a beautiful place, but the staff made it abundantly clear that no photography was allowed. They were so anxious about pictures that they repeated three or four times that we were to turn off our cell phones, and then there was a security guard stationed at the front of the auditorium to watch for offending picture takers. Oh well, you'd think that in this day and age venues would realize that pictures and videos are excellent free publicity, but not in this case. The auditorium is medium-sized with rows of seats and as I mentioned before, a very high stage (4 feet off the floor). There is also a balcony in the back, from where one would get a great view, but they always charge more for those seats. There is no real food but there is a bar with hard and soft drinks and snacks, and one is allowed to bring one's refreshments to one's seat. There was no opening act at tonight's show.
Click for 2013 Concert Page with links to all 2013 concerts ... Click for Main Concert Page with links to all years
Previous concert (Dave Davies) ... Next concert (Dave Davies)