Previous concert (Dave Davies) ... Next concert (Gandalf Murphy and the Slambovian Circus of Dreams)
Dave Davies ~ 2013 June 2 ~ Narrows Center for the Arts ~ Fall River, MA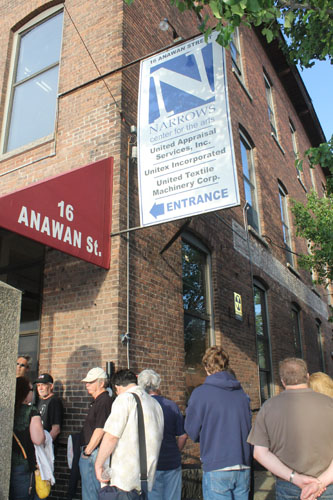 Narrows Center for the Arts
Band Personnel: Dave Davies, lead vocal, electric and acoustic guitar; Jonathan Lea, guitar and bass guitar; Teddy Freese, drums and backing vocals; Tom Currier, bass, keyboards, and backing vocals
[on electric guitar:] I'm Not Like Everybody Else - I Need You - Little Green Amp - Creepin' Jean - Tired of Waiting - See My Friends - Wicked Annabella - Love Me Till the Sun Shines - [on acoustic guitar:] Strangers - Death of a Clown - This Man He Weeps Tonight - Young & Innocent Days - Healing Boy - Flowers in the Rain - [on electic guitar:] Living on a Thin Line - Where Have All the Good Times Gone? - All Day and All of the Night ... encore ... I'm Not Like Everybody Else - You Really Got Me
Finally there was a gathering of fans before a show, somewhat reminiscent of the Dave.1 touring years. When Concert Going Partner and I arrived about an hour and a half before doors were to open, Dawn and Richard from Rhode Island were already there, and soon Frank Lima and Andrea Ronnie came along, so we all had a fine time chatting about the old days and the new days and comparing notes about shows we've seen.
This was the best of the three shows I saw on this inaugural Dave.2 tour. Dave seemed in the best spirits yet. Although I was somewhat worried that seven nights in a row would be too much, his voice seems to be getting stronger. In each of the three shows I saw, his singing improved as the show went along, so it's obvious that just plain rust, caused by all those years of not performing, is a contributing factor in the struggles he is having with his vocals.
There were a few touching moments in tonight's show. Dave dedicated "See My Friends" to the late Rafaela Filippi, who had been a great fan of Dave's as well as a personal friend of many of us. I miss her so much, and these shows can never be the same because she is no longer on this plane.
Dave added in two songs that were often performed during the Dave.1 years but that were new to this tour, those being a somewhat short version of "Wicked Annabella" (which used to feature an extended jam in the Dave.1 years, but is still a great song without it) and a fun rendition of "Love Me Till the Sun Shines." He tried "Strangers" again but that remains a very difficult song for him to sing. One song that was greatly improved was "Flowers in the Rain"; his vocal on that was the best I'd heard yet on this tour.
I've been to the Narrows Center for the Arts, located on the top floor of an old factory building, quite a few times over the past decade. There are some things I like about it and some things I don't like about it. The best thing about it is, it's about 45 minutes from my house. What a nice change this is, after all the long journeys to see concerts over the years. It's a nonprofit venue so nobody is making money except the artist, but that doesn't mean ticket prices are lower than anywhere else. They allow you to bring your own food and drink, and many concert goers bring a picnic basket and a bottle of wine. They also have coffee and desserts for sale. The former church pews that were the original seats in the place have all been replaced by comfy chairs and tables. They also now have an elevator.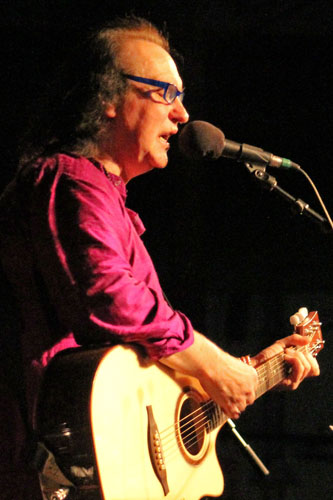 Dave Davies at the Narrows
But their ticket policies leave a little something to be desired. For a pretty steep membership fee, concert goers can reserve a front table. That means that no matter how early you get to the show, if it's a popular one like this one, the best seats will be gone. In addition, at the door, although we had physical tickets that we printed at home, the doorman was still checking our names against a list, while folks in the other line were streaming into the venue, even though they had been behind us in the line outside. Doesn't this venue REALIZE that people get to a show early because they want to get in first? That really ticked me off. Also, the way the room is arranged, a good half of the seats are in a wing off to the side where one really wouldn't be able to see very well. Maybe I'm spoiled by all those general admission, standing venues where Dave used to play in the Dave.1 years, but I was disappointed to wind up crammed in in a seat off to the side of the stage.
At least I got to sit with the other Kinks fans from the front of the line, and I got to participate in the custom (started some years ago by Kate Hunter) of tossing appropriate articles of clothing on the stage during "Creepin' Jean" (your dirty friends and underwear...). Surprisingly, we didn't see any of the Boston area Kinks fans, and other than Doug Hinman, no one else from other shows at the tour.
Since he's been a solo artist Dave has always been good at playing to his strengths. In the Dave.1 years he chose Kinks songs that were suited to his singing style and put his own interpretation on many of them. He has always displayed a free and easy, friendly and often flirtatious personality on stage, to the great delight of audience members. His shows have always been fun! And they still are. Although I only saw three shows on this tour, I saw real growth in Dave's performance over those three. He is developing a new ability to work with the tools that he has. I am sure that when planning this tour he had realistic doubts about his ability to carry a full length live show. But when this tour is over I am sure that he will judge that it was a success, and that it was a good decision to try live performing again.
God Save Dave Davies!
Click for 2013 Concert Page with links to all 2013 concerts ... Click for Main Concert Page with links to all years
Previous concert (Dave Davies) ... Next concert (Gandalf Murphy and the Slambovian Circus of Dreams)