Previous concert (Dave Davies) ... Next concert (The Zombies)
Gandalf Murphy and the Slambovian Circus of Dreams ~ 2013 June 9 ~ Towne Crier Cafe ~ Pawling, NY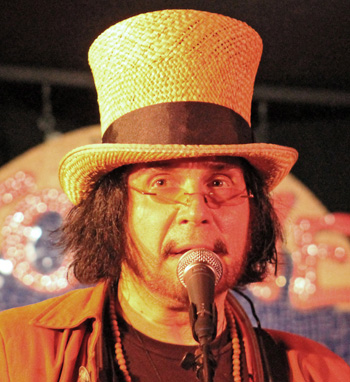 Joziah Longo
with Mad Hatter hat for the encore set
Click on the picture
to see a photo gallery of the concert
including some nice portraits of the entire band,
toward the end of the photo gallery
Band Personnel: Joziah Longo, lead vocals, guitar, harmonica; Sharkey McEwen, lead guitar, mandolin, backing vocals; Eric Puente, drums; Tink Lloyd, accordion, cello, tambourine, backing vocals; Michael Polito, electric bass (on three songs) ... also known as The Grand Slambovians
Grand Slambovians - Sunday in the Rain - Circus of Dreams - (a few notes of the Beatles' Blackbird) - Summer's Day - Very Happy Now - Pushing Up Daisies - Lost Highway (with Mike Polito) - Genius (with Mike Polito) ... intermission ... Tink (I Know It's You) - Fumes - Very Unusual Head - Box of Everything - Talkin' to the Buddha - Trans-Slambovian BiPolar Express (with Mike) ... encore ... The Invisible - Alice in Space
Scroll down past the videos for review; photo gallery is to the right.
"Genius":
"Trans-Slambovian BiPolar Express":
The Towne Crier Cafe, after a 25 year run at its location in Pawling on Route 22, will be moving to a new location in Beacon, New York later this year and this was to be their last night in the current location. Proving what good taste they have, they asked the Circus to close the place. As Phil the M.C. said, what could be more appropriate than for the Gandalf Murphy people, who started their career here many years ago playing open mikes, to turn the final page on the long and storied history of this great music venue.
I've been to the Towne Crier four times, twice for the Slambovians, and I also saw Graham Parker here twice. One of those times became infamous in certain circles since someone in the audience set fire to a napkin with one of the little candles decorating the tables. We mentioned that to our waitress and she remembered the incident well! Maybe when they move to Beacon the fire marshall will make them use fake candles. While introducing the band, the M.C. and club manager, Phil, paid homage to the chef (we love his stuffed burrito), to the pastry chef, to the waitstaff and everyone else who has made this place such a success. Now that the location is closing, it may be too late to ask this question, but why would a venue called "Towne Crier" (as olde New England a name as you could find) be decorated with southwestern style decor?
Joziah Longo is the Grand Slambovian's lead singer, writes the songs, and holds the key to this band's unique and appealing nature. He has a way with words. While introducing the song called "Fumes," he said he'd be playing just a few sissy songs; I heard an audience member at the next table ask their friend: "what's a sissy song?" Even the quiet ballads had this crowd in an uproar, as the totally sold out venue joined in with the celebration. As he always does, Joziah asked, after the first song or two, how many folks in the audience were seeing them for the first time, and a few hands went up; Joziah asked them for a show of hands again a couple of songs later when he was requesting that the crowd sing along.
No two Slambovian shows are alike, partly because of Joziah's rambling and humorous narrative. Tonight he began to talk about Pete Seeger, and protest songs, and songs that mean something, and musicians that have a purpose, and was about to give the impression that the Circus have no purpose, when Tink suggested that they were all about fashion. She certainly always looks the part.
The band pulled a few venerable chestnuts out of the big book of songs tonight, including "Circus of Dreams," which Joziah said he wrote when he was about 20 years old and also gave a name to the band he would go on to form with Tink, Sharkey, and Tony (the original drummer, still beloved by all in Slambovia). As the show unfolded in its usual unpredictable way, Sharkey suggested a song or two to Joziah, such as the psychedelic "Summer's Day." My particular favorite Slambovian song, "Tink (I Know It's You)" opened the second set after the intermission, and I told myself, this is the way music is supposed to make you feel. The extraordinary slide mandolin solo in this song, played by Sharkey, is, to my thinking, one of the most amazing moments in all of popular music. Two unreleased songs made their appearance, the easy singalong "Very Unusual Head," which Joziah continues to claim will appear on a solo album of his, and "Box of Everything," slated for a new band album. (Guys ... I'm waiting ... I've been hearing about this for exactly one year now, since I last saw the Circus at the Towne Crier).
Eric Puente has recently celebrated one year in the band, so we can stop calling him the "new drummer" and just call him the drummer. He looks the part a little bit more now, as his hair is longer than when he joined. (People wear their hair long in Slambovia.) Michael Polito joined in on electric bass on three songs, "Lost Highway," "Genius," and "Trans-Slambovian BiPolar Express," two of which I was able to video (scroll up for links). Tink was wearing a pretty geegaw in her hair, and at one point she pulled it out to show it to the audience, and said it was a bluebird that had come with a Happy Meal at McDonald's. This led Joziah to attempt a few bars of the Beatles' "Blackbird," but quickly realized that wasn't a very good idea.
Joziah always says that "Talkin' to the Buddha" is their most requested song, so of course for this special night it was included on the set list. The song included a tip of the hat to their friends at the Crier; when the usual lyric is "meet me at Joe's diner, where Rte 6 meets 88," Joziah changed it to: "Meet me at Phil's diner ..." in tribute to their friend Phil, who has done so much to help their career. The picture gallery to the right includes some photos of the band taken backstage after the show, and Phil appears in some of them. (He reminds Concert Going Partner and me of Steve, the manager/soundman at the Bull Run in Shirley, Mass. ... they both match a certain "club manager" profile.)
For the encore set Joziah replaced his customary bowler hat with a Mad Hatter-style tophat. A Slambovian show is always good when it is closed with the sweet love song, "The Invisible," especially when Joziah gestures toward the audience while singing about being "here with you." But a Slambovian show is even better when it is closed with "The Invisible" followed by an uptempo number, and tonight the show ended with the ravingest rave-up of all Circus rave-ups, "Alice in Space." As one, the audience leaped to their feet, cheering and singing and dancing along with this song about unbridled joy.
Here is a page with a handy list of links to all pages on this website with content relating to the Grand Slambovians.
Click for 2013 Concert Page with links to all 2013 concerts ... Click for Main Concert Page with links to all years
Previous concert (Dave Davies) ... Next concert (The Zombies)