Previous concert (Jez Lowe and James Keelaghan) ... Next concert (The Stompers)
The Grand Slambovians ~ 2013 October 18 ~ Peterborough Players Theater ~ Peterborough, NH
Band Personnel: Joziah Longo, lead vocals, guitar, mandolin, harmonica; Sharkey McEwen, lead guitar, mandolin, backing vocals, lead vocal (on one song); Eric Puente, drums; Tink Lloyd, accordion, cello, ukulele, melodica, tambourine, cowbell, piccolo, backing vocals ... also known as Gandalf Murphy and the Slambovian Circus of Dreams
Grand Slambovians - Picture - Very Unusual Head - Hurdy Gurdy Man {Donovan} - Suzanne {Leonard Cohen} - medley: Very Happy Now / Epistle to Dippy {Donovan} / I Wanna Be Sedated {Ramones} - Tink (I Know It's You) ... intermission ... Northern Sea - Naniwan - Sullivan Lane - Walking the Floor Over You {brief improv} - Windmills - Box of Everything - Talkin' to the Buddha - Trans-Slambovian BiPolar Express ... encore ... In-A-Gadda-Da-Vida {brief improv} - Where Have All the Flowers Gone? {brief improv} - If I Had a Hammer - The Invisible


Scroll down past the video for review.
"The Invisible":
Concert Going Partner and I enjoyed a leisurely afternoon in the charming hamlet of Peterborough, NH, that most New-England of all New England towns, the little town that is the template for Thornton Wilder's play Our Town. We wandered about the frozen-in-time shoppes, photographed an array of interesting weathervanes, enjoyed the fall foliage, ate a well prepared meal at the Peterborough Diner, and in general put ourselves in a great mood for our third visit to Slambovia in just two weeks.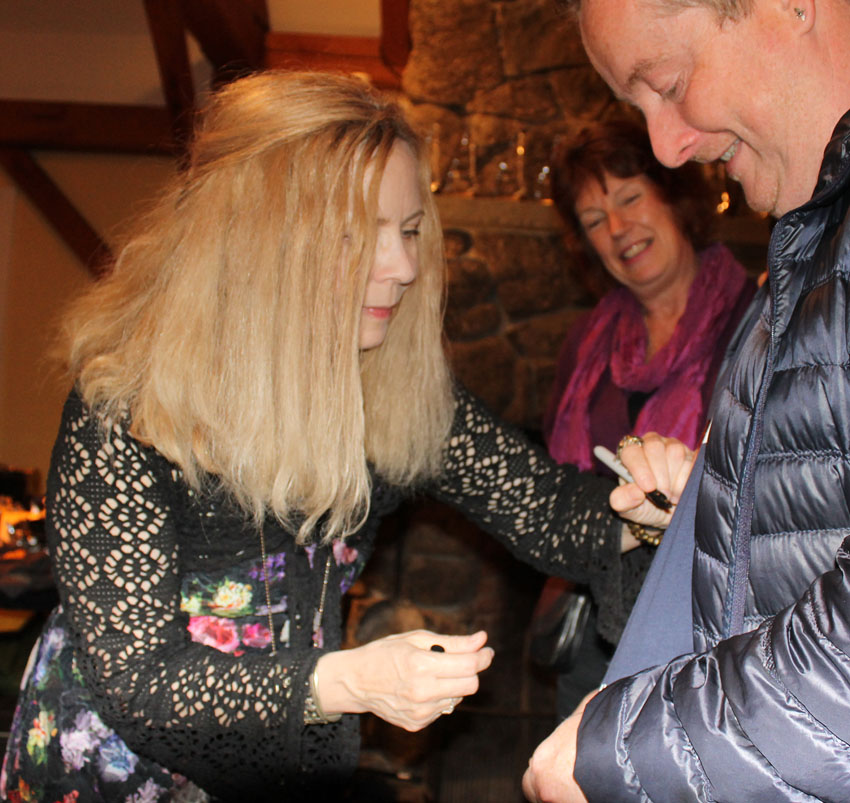 Tink Lloyd autographs Ian From The UK's shirt
while Sue From The UK looks on
Three miles out of town on a country road, set back in the woods, The Peterborough Players Theater is a big venue, suitable for professional theater. Its several hundred seats are arranged in sloping rows so that everyone has a great view of the huge stage. There's plenty of room in the lobby and a small kitchen where coffee was brewed and treats prepared for the intermission.
Apparently the band were delayed in traffic on their way to Peterborough, so the start of the show was delayed somewhat, but once they got going, they were great, as expected. A musical highlight occurred early in the second half of the show. After they had performed the lovely "Northern Sea," Tink mentioned something about Joziah being able to speak in many languages. I think she meant musical languages, but he was inspired to try a few bars of "Naniwan," the Chinese song that Joziah and band mates learned, many years ago, when they were the first American band to tour in China. He sang a few lines of the song and told a long-untold story about their experiences there; there were armed guards at their shows; they were inspired by a dissident songwriter to pay him the tribute of learning one of his songs. Since they'd started in on this, completely unplanned, Joziah proposed to the band that they actually perform the song. Sharkey's always up for these weird things; Eric probably didn't know the song (it's possible he'd never even heard it), but he was willing; and Tink got really excited, because she plays the flute on the record, and she had her piccolo with her and it gave her a chance to play a few bars on that lovely little instrument.
During the encore set, a very typical few moments of goofing around led to a few notes of "In-A-Gadda-Da-Vida," but then Joziah had a better idea. During these last few shows, Joziah has been solemnly announcing to the audience that the Circus are not a folk band. He's been saying that they only pretended to be a folk band because of the huge amount of money to be made on the folk circuit. He's been saying it's time for the band to come clean about their non-folk-ness. However, before proclaiming their non-folk-ness, they recorded an album called Folk (from which they played both "Suzanne" and "Hurdy Gurdy Man" tonight), as a way of getting the folk-ness out of their system, once and for all. So what does Joziah do for the encore? First he sings a few bars of "Where Have All the Flowers Gone?" but that was derailed by a front-row fan providing a wrong lyric. But then he proposed a folk singalong and the idea was greeted with great enthusiasm by the audience; everybody sang along to "If I Had a Hammer" with gusto.
That silliness over, they finished up with the real encore, "The Invisible," on which Sharkey used an e-bow to play his guitar. The e-bow is an electronic gadget that vibrates the guitar strings without having to touch them. I had the good fortune to video this song, so you can see the e-bow in action by scrolling up to the video.
Here is a page with a handy list of links to all pages on this website with content relating to the Grand Slambovians.
Click for 2013 Concert Page with links to all 2013 concerts ... Click for Main Concert Page with links to all years
Previous concert (Jez Lowe and James Keelaghan) ... Next concert (The Stompers)