Previous concert (Willie Nile) ... Next concert (Slambovian Circus of Dreams)

Vance Gilbert ~ 2014 May 18 ~ Club Passim ~ Cambridge, MA

Vance Gilbert accompanying himself on acoustic guitar.

Icarus By Night - God Bless Everyone - Goodbye Pluto - Green Green Grass of Home - First Ring - Out the Way We Came In - Unfamiliar Moon - My Bad - Old White Men - For Evelyne - Little Wing - Pound of Prevention - Boy on a Train - My Dog's Best Friend is a Cat - Garden in Winter - The Brakeman's Son (a cappella) - Let Me Know (a cappella)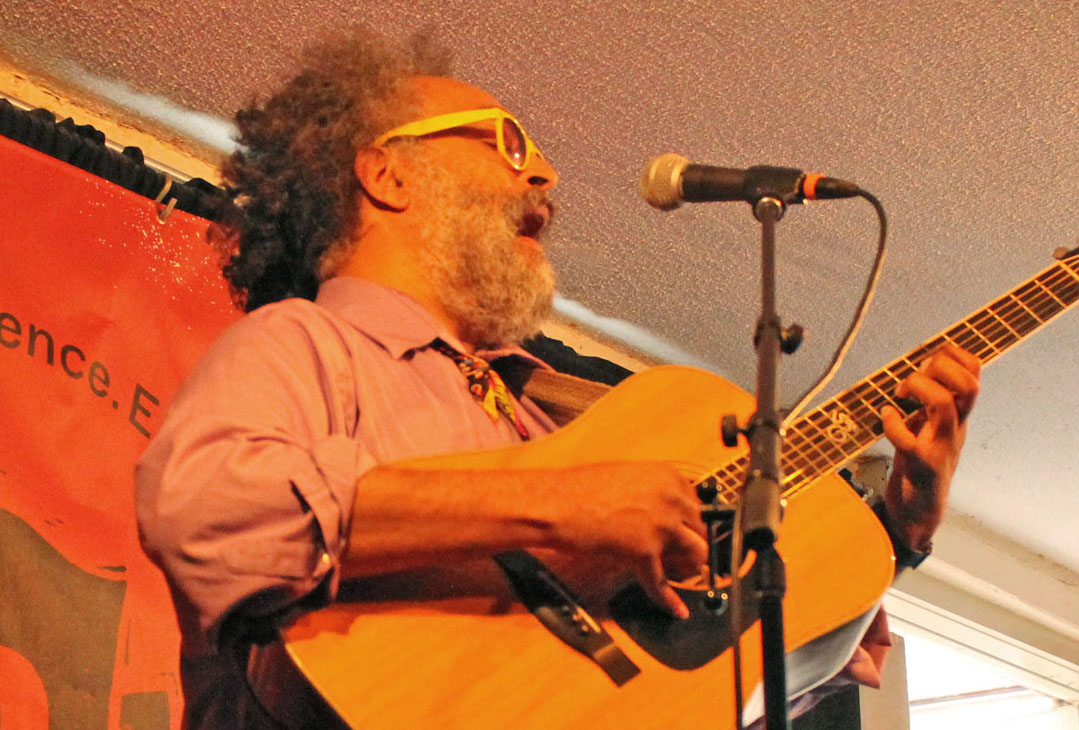 Vance Gilbert at Club Passim
The performers who are at the top tier of my personal musical universe have some features in common. They all possess great songwriting and an entertaining, enthusiastic stage presence; some have musical chops that are out of this world. Now, add great singing to this list. For the first time I have witnessed the force of nature that is Vance Gilbert.
Vance is a folk singer-songwriter who wiggled out of his own mold. He freely addressed quite a few members of the audience, giving dating advice to a young couple; commenting in a friendly way on two folks who came in late ("oh good - now I can play the good stuff"); expressing cheerful gratitude to a young African-American woman for keeping him from feeling quite alone in the room. All comments to the audience were delivered with good humor and with an upbeat style.
He told many stories, some poignant, some funny. Introducing "Garden in Winter," he talked about the songwriting process, making unmerciful fun of "MacArthur Park" ("'someone left the cake out in the rain' ... what is that?"). Introducing "The Brakeman's Son," he told the story of a conflict with his ultra-fussy neighbor over how to keep one's yard; a story that ends with the moral that it's the right thing to do to be generous even to those people you don't like. He told the stories with enthusiasm and a sort of childlike innocence. His songs range from upbeat to sad to nostalgic, rooted in personal and universal experiences.
But most of all, I've got to say it. What a set of pipes. In "My Bad" he sang in the style of an old-time torch singer (Billie Holliday) and made noises like a trombone or muted trumpet. In "Little Wing" he started a hum, and about three minutes later he finished the hum. (Concert Going Partner said: he must be breathing through his ears.) He sang in folk style throughout the show. But he also sang in jazz scat style ("My Dog's Best Friend is a Cat"). And most impressive of all, he sang in a cappella gospel style, "Brakeman's Son" and especially the final song, "Let Me Know."
Concert Going Partner and I got tickets for the early show (5:00 pm). Passim had a double show booked, since Vance was celebrating the release of his latest album, Bad Dog Buffet, from which he played several songs. It was Sunday and the room was quite full. We made the silly mistake of driving in to Cambridge, which resulted in waiting in traffic in several different locations; a dumb idea for a venue that is as convenient to public transit as this one.
Click for 2014 Concert Page with links to all 2014 concerts ... Click for Main Concert Page with links to all years
Previous concert (Willie Nile) ... Next concert (Slambovian Circus of Dreams)