Previous concert (The Stompers) ... Next concert (Ray Mason)
The New Bedford Folk Festival ~ The Kennedys and other performers ~ 2016 July 9 and 10 ~ downtown New Bedford, MA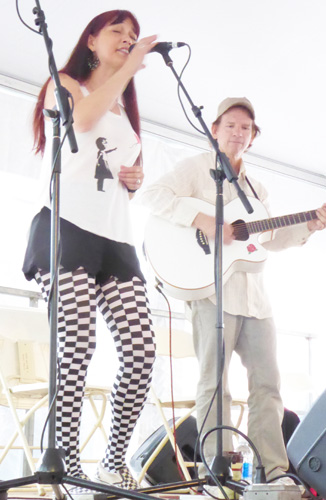 The Kennedys were a highlight of the
New Bedford Folk Festival
click thumbnail to see a photo gallery
of the concert
The Kennedys Set List {Purchase Street Stage, July 10}
Life Is Large - Wheels {Gram Parsons} - West - Southern Jumbo - River of Fallen Stars - Dharma Café - I Found a Road - The Boy Beneath the Bridge {new Maura Kennedy/B.D. Love collaboration} - Feel a Whole Lot Better {Byrds/Gene Clark} - 9th Street Billy - Williamsburg Bridge {Pete Kennedy solo} - Wall of Death {Richard Thompson} - Stand (with backing vocals from two young girls, friends of The Kennedys)
The New Bedford Folk Festival, the best deal around ($20 for the whole weekend), delivered a delightful two days of nonstop musical entertainment. Concert Going Partner and I aren't usually festival people, usually preferring to go a stand-alone concert by a favorite performer, but we can't resist this since it is so affordable and close to home.
The weather was extremely favorable, with cooler than usual temperatures and only a bit of rain on Sunday. For the most part the logistics were smooth, except that we were unceremoniously kicked out of the Whaling Museum when we had deliberately gone there to stake out a seat for the performance that was scheduled next. Be warned, if you go next year, they clear out the Whaling Museum venue at the end of each performance, so the only way to see the show you want is to skip the one beforehand and stand in line outside instead. But that was really the only snafu in the weekend, and most of the performers we wanted to see were in the street tents, anyway.
My musical highlight was a set by The Kennedys on Sunday morning in the Purchase Street tent, when Pete and Maura (whose fabulous outfit included a checkered pair of tights and matching sneakers) good-naturedly solicited requests from the audience for a well-rounded set. Their set ended with the anthem "Stand," with backing vocals from two young girls from the audience, talented daughters of a local folk promoter. Those girls were good!
Other highlights of the weekend were Wareham-based singer/songwriter Grace Morrison; Quebecois father-and-son accordion/concertina duo Benoit Bourque and Antoine Pigeon-Bourque; and RUNA and Miss Rosie, young, energetic multi-instrumental folk bands. The biggest name we saw was Ellis Paul; we slipped into the big venue, the Zeiterion, to see a few songs by him (he was good, but too popular for me; I usually gravitate to the under-the-radar musicians). Performers we didn't see enough of but would like to see again included singer/songwriter Mike Laureanno and gospel/folk singer Reverend Robert Jones, Sr. Other acts that didn't impress us, but were popular with other festival goers, included Spuyten Duyvil (bar band) and Stray Birds (seemed like they were in a bad mood).
This is a festival where it is easy to get to know new performers and catch some tunes from familiar performers. We didn't love everything we heard but we loved most of it! We'll be back next year.
Click for 2016 Concert Page with links to all 2016 concerts ... Click for Main Concert Page with links to all years
Previous concert (The Stompers) ... Next concert (Ray Mason)