Previous concert (Slambovian Circus of Dreams) ... Next concert (Slambovian Circus of Dreams)
The Lonesome Brothers ~ 2016 July 17 ~ Hyland Orchard & Brewery ~ Sturbridge, MA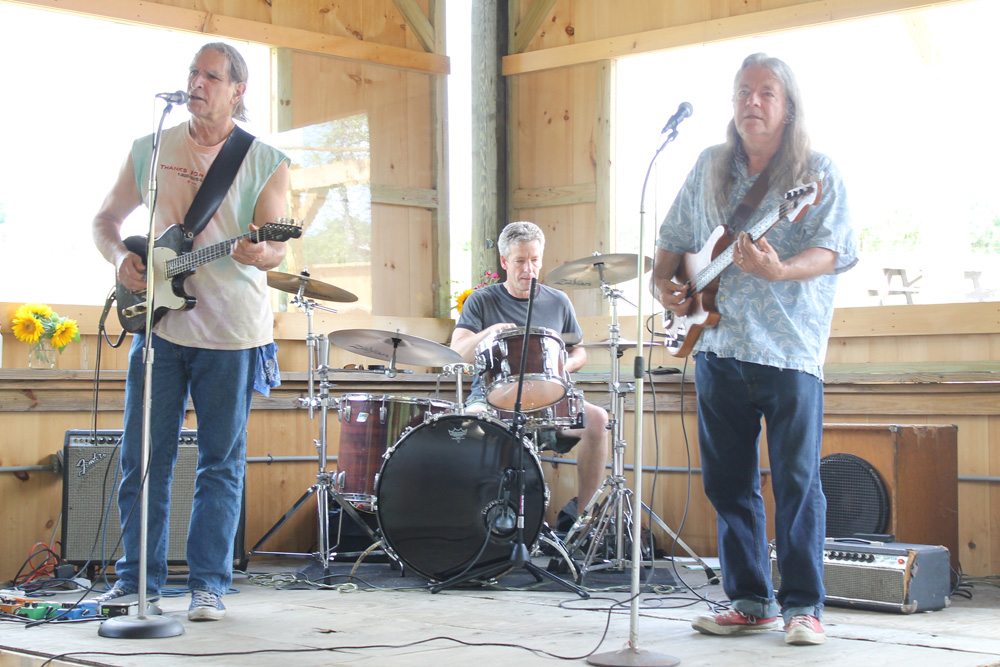 The Lonesome Brothers
Band Personnel: Jim Armenti, guitar, lead and backing vocals; Keith Levreault, drums; Ray Mason, bass, lead and backing vocals
I Must Be In Trouble
Call Hannah
Concert Going Partner and I finished up our three concerts in three days with a stop at this open air pavillion out in the woods to see a set and a half of Ray Mason's hick rock band, The Lonesome Brothers.
A democratic outfit, Ray and his compatriot, lead guitarist Jim Armenti, take turns with the songs. They are both excellent songwriters, Ray with a more quirky bent and Jim a bit more traditional in his songwriting. Both have a way with words and melody. Drummer Keith Levreault completed the trio with a smile.
We got there to discover the venue has no food, so we went off in search of a sandwich to go, and as Kinks fans we were delighted to patronize Lola's Pizza in nearby downtown Sturbridge.
Here is a page with a handy list of links to all pages on this website with content relating to Ray Mason and the Lonesome Brothers.
Click for 2016 Concert Page with links to all 2016 concerts ... Click for Main Concert Page with links to all years
Previous concert (Slambovian Circus of Dreams) ... Next concert (Slambovian Circus of Dreams)