Previous concert (Slambovian Circus of Dreams) ... Next concert (Grace Morrison)
Parsonsfield ~ 2016 September 17 ~ The Eclectic ~ Willimantic, CT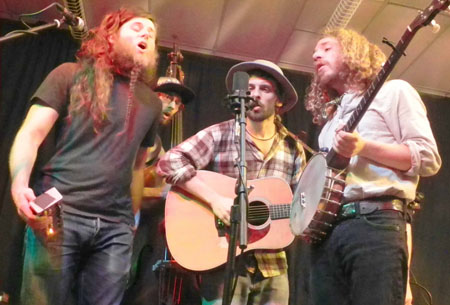 Antonio, Harrison, Chris, and Max of Parsonsfield
click thumbnail to see a photo gallery
of the concert
Band Personnel: Chris Freeman (vocals, banjo, guitar, accordion, pump organ, harmonica, saw), Antonio Alcorn (vocals, mandolin, banjo), Max Shakun (vocals, pump organ, guitar, accordion, melodica), Harrison Goodale (vocals, stand-up resonator bass, electric bass, percussion, saw), Erik Hischmann (vocals, drums, xylophone, percussion, bass). ... this band plays so many instruments, forgive me if I missed any
Stronger - Ties That Bind Us - Blooming Through the Black - Moonshiner {Punch Brothers} - Footsteps In My Ear - Weeds or Wildflowers - Water Through a Mill - Barbed Wire - Lay Some Flowers on My Grave - Don't Get Excited - Punching the Air - Right Now - Everyone Dies - Across Your Mind - Strolling Down the Highway - Anita, Your Lovin' ... encore ... Hot Air Balloon
Scroll down past the videos for the review. My Concert Going Partner also brought a video camera so we got a lot of videos.
Stronger
Ties That Bind Us
Strolling Down the Highway
Hot Air Balloon
Weeds Or Wildflowers
Let The Mermaids Flirt With Me
Don't Get Excited
Tear Down the Stage
Parsonsfield put on two shows of their high-energy, melodic music at this hip new venue. Hard to categorize, their music might be called alt-bluegrass-folk-pop. They sing exceptional harmonies, they play a dizzying array of instruments, all with skill and style. They burst onto the stage with an unfettered enthusiasm, readily coaxing singing along and even bouncing along from the audience. If you've seen them, you know how lively and engaging they are. If you haven't see them yet, let me just say you are in for a real treat if you go to one of their shows.
Their material includes many traditional folk songs as well as newer folk material from other artists, but reinterpreted with a joyful energy. You'll never hear "Hang Me" or "Sandy Groves" done anything like this. Parsonsfield have put their stamp vigorously onto these old chestnuts. But to my huge delight, the band are also playing a whole gaggle of wonderful new originals from their brand-new album, Blooming Through the Black. My favorite of their new songs is a touching ballad, "Hot Air Balloon," in which all five musicians gathered around one microphone, but every one of the several new songs they played was a treat.
The band ended their first set with "Anita, Your Lovin'," a previously released original song and a crowd favorite. They took a half-hour break during which time many of the patrons filed out of the venue and got back in line to return for the second (separate admission) show. They repeated several of the new songs in the second set, but varied the selection of older material.
It had been a couple of years since I'd seen this band, and they have changed their look a bit. Especially Max Shakun, who has grown his hair much longer and has taken to whipping it around as he plays the pump organ. There was a sixth musician on a few of the songs, their merch guy Dave who came up on stage to play the pump organ while Max played guitar or accordion. The band's trademark is the saw (used as a musical instrument); it was played on one song by Chris Freeman, and on another, bassist Harrison Whale Goodale.
This venue, the Eclectic, gets very high marks. I hadn't been able to tell from their website whether it's a standing or seated venue, and it turns out it was both. An invisible line perpendicular to the stage marked the boundary between seats and standing. On the left side of this boundary there were a dozen rows of seats. To the right there was an open dance floor where fans congregated to stand during the show. This was a very good way to arrange the room. I've been to many venues where a space for dancing is left in front of the stage, blocking the view of everyone who is seated. But having the room arranged as half seated, half standing kept the dancers out of the way of the people in the seats and made everybody happy. Bravo, Eclectic, for doing this. The capacity of the room might have been around 200 and it was full for both shows. It is located in the college town of Willimantic, near the University of Connecticut, and this, as Chris Freeman commented from stage, means a great live music venue for the college community. I wish them luck and success with the many musical acts they have booked.
Here is a page with a handy list of links to all pages on this website with content relating to Parsonsfield.
Click for 2016 Concert Page with links to all 2016 concerts ... Click for Main Concert Page with links to all years
Previous concert (Slambovian Circus of Dreams) ... Next concert (Grace Morrison)