Previous concert (The Kennedys) ... Next concert (Willie Nile)
The Willie Nile Band ~ 2016 November 18 ~ Iron Horse Music Hall ~ Northampton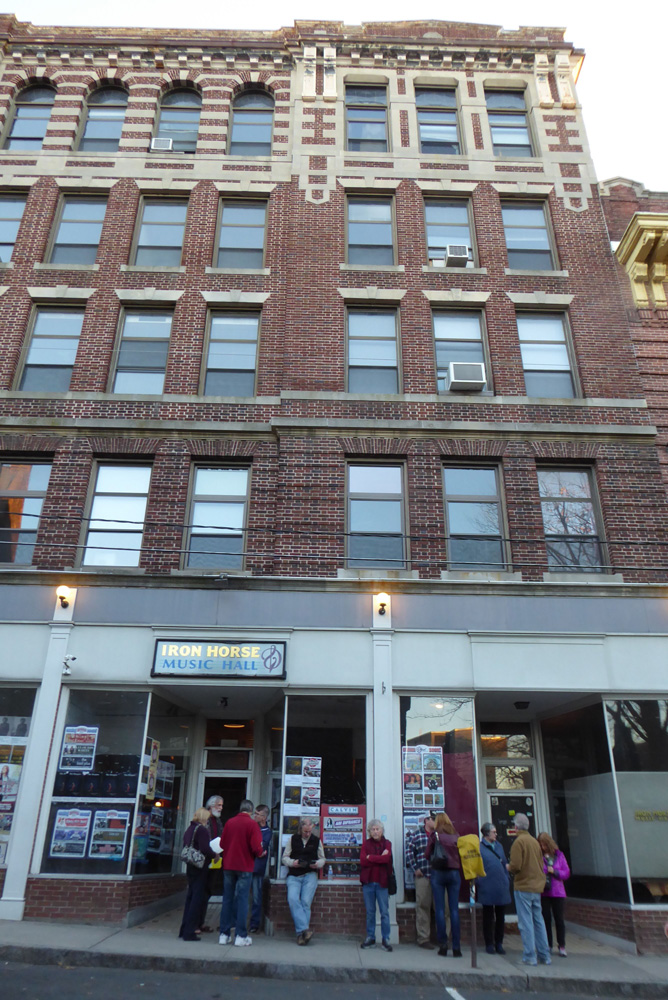 Queue outside the Iron Horse
Band personnel: Willie Nile, vocals, electric and acoustic guitar; Johnny Pisano, bass and backing vocals; Alex Alexander, drums; Matt Hogan, lead guitar and backing vocals; James Maddock, opening set (vocals and guitar) and a couple of songs with Willie
Forever Wild - Grandpa Rocks - Life on Bleecker Street - The Innocent Ones - Black Magic and White Lies - Midnight Rose - Hell Yeah - Love Is a Train - Rainy Day Women {Dylan} - Children of Paradise - Trouble Down In Diamond Town - House of a Thousand Guitars - Sweet Jane {Lou Reed} into Heroes {Bowie} - One Guitar ... encore ... On the Road to Calvary [solo Willie] - Hard Days Night {Beatles} - Police on My Back {Clash}
Scroll down past the video for review.
"Grandpa Rocks"
Willie Nile played the first of two nights at the Iron Horse with his full band. He played five songs from his new album, World War Willie, a selection of tunes from his deep catalog, and a handful of fun covers. He's been playing Lou Reed's "Sweet Jane" for a few years, and now to honor another one of rock music's losses, he has combined it with Bowie's "Heroes." The band had fun with Dylan's "Rainy Day Women," in which Willie improvised a line: "they'll stone you when you're on the golf course, they'll stone you when you play the Iron Horse." A highlight of the evening was "Love Is a Train," played by Willie on guitar instead of the usual piano. He did not use the piano at all tonight. Instead he opted for a loud, hard rock set devoid of any slow songs or ballads with just one exception, the first encore song, "On the Road to Calvary," which Willie played by himself, just him and guitar. That was very nice. Otherwise the high energy, loud set blasted out Willie's intention to appeal to a younger crowd, perhaps at the risk of muffling the songs themselves. I know that if I didn't already know the lyrics to most of the songs, I wouldn't have understood a word.
The show was opened by James Maddock, a literate singer/songwriter whom I have heard praised by none other than Willie himself. I was surprised to find that James is English; I suppose I was expecting another New York singer/songwriter. He also joined Willie's band on stage for "One Guitar" and one or two other songs.
Here is a page with a handy list of links to all pages on this website with content relating to Willie Nile.
Click for 2016 Concert Page with links to all 2016 concerts ... Click for Main Concert Page with links to all years
Previous concert (The Kennedys) ... Next concert (Willie Nile)