Previous concert (Ten Strings and a Goatskin) ... Next concert (Ray Mason)
The Dave Davies Trio ~ 2017 April 20 ~ Tupelo Music Hall ~ Derry, NH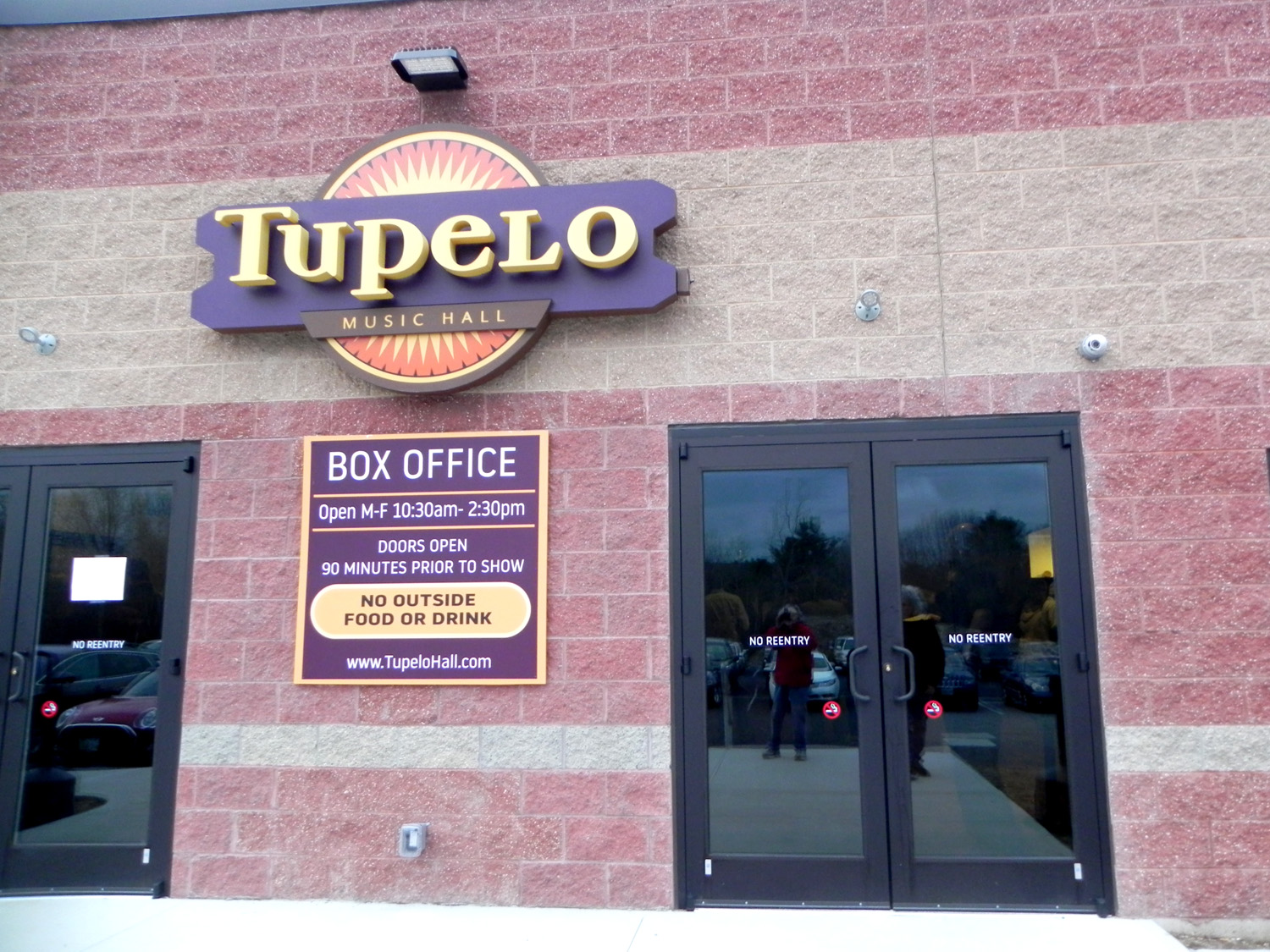 Tupelo Music Hall
Dave Davies, lead vocals, guitar; David Nolte, bass, guitar, keyboard, electronic samples, backing vocals; Dennis Diken, drums, backing vocals; Rebecca Wilson, backing vocals (2 songs)
Open Road - I Need You - She's Got Everything - Creepin' Jean - Tired of Waiting - Susannah's Still Alive - Love Me Till the Sun Shines - See My Friends - Path Is Long - Strangers - Too Much On My Mind - Young & Innocent Days - This Man He Weeps Tonight - I Am Free - Death of a Clown - Dead End Street - Living on a Thin Line - Where Have All the Good Times Gone? - All Day and All Of the Night ... encore ... I'm Not Like Everybody Else - You Really Got Me
The quality of these videos is not great since we were sitting in the second to last row, but I think they're watchable. You decide.
Tired of Waiting
See My Friends
Too Much On My Mind
Dave, David, and Dennis played almost the same show as the other night at TCAN, with the only change being the omission of "Wicked Annabella," which at the other show was the second to last number before the encore. I think Dave may have omitted it tonight because he was sensing this was a crowd that mostly wanted to hear the hits, so he skipped directly to "All Day & All of the Night." This crowd seemed to be for the most part a little bit subdued until the last three songs, which started with "ADAOTN." I sometimes think Dave might do well to bow to popular opinion and play two or three more of the Kinks songs that are known to the music listening public, and not just us diehards. For everyone who is going to freak out over hearing "I Am Free," there are probably fifty who would like to hear "Victoria," "Apeman," or "Sunny Afternoon." Then again, there's the person who wants to hear "Ducks on the Wall" (a request that a person next to me called out a couple of times). With this many songs to pick from, Dave is certain to please a lot of the people a lot of the time.
I am greatly enjoying the return of David Nolte (not Naughty!) to the Dave Davies Band. On a couple of songs ("Young and Innocent Days," "Too Much On My Mind"), his bass stepped in as the lead guitar, while Dave strummed a lovely acoustic guitar. The power trio format works to emphasize Dave's renewed guitar playing, which is a delight for everyone, but it does leave some musical elements out of several of the songs. "Too Much On My Mind," for instance, used to benefit from Kristian Hoffman's keyboards, and without them sounds a little basic, but these Kinks songs are so good they can stand up to just about any sort of re-arrangement. Tonight he revived a gag from the 1997-2003 era, what I am calling the Dave.1 years, and had David Nolte play the piano intro to "Death of a Clown" twice.
One aspect of the shows that I am enjoying is how much fun Dave seems to be having. He teases the audience -- two guys in the front got up (to get another beer, probably) and Dave accosted them: "Hey! Where are you going? You can't leave!" The two guys promptly changed their gait to a guilty slink. During "Death of a Clown," Dave demands that the crowd sing along, says he's going to count in the audience part, and then counts: one ... two ... three ... four ... five ... six ... seven ... (that gets a laugh every time). He's using some little bits of banter as lead-ins to the songs. He said: "A lot is going on in the world. Sometimes I'm losing sleep. I have too much on my mind ..."
Maybe the crowd was a little lackluster because of the venue. This is the new Tupelo Music Hall. The old Tupelo was in the neighboring town of Londonderry in a smaller space. The old venue seated about 250, the new around 400. The new venue has nice big restrooms, a nice big parking lot, a fully stocked bar, and absolutely no character whatsoever. The old venue had tons of personality. The new venue has none. The new venue is literally in a warehouse. Concert Going Partner and I got to the door and were told to leave the camera in the car, even though (suspecting something like this might happen), I had brought a simple point-and-shoot. Then we got inside and found that the "mezzanine," where we had bought the somewhat cheaper tickets thinking it would be elevated and we'd be able to get a view of the stage, was a section on a four inch riser behind the floor seats. Fortunately the last three or four rows of this "mezzanine" DO slope up, and we moved to the second to the last row where we could at least see over the heads in front of us. Then during the show, a woman a few rows ahead of us was waving around a cellphone (the way people used to wave their lighters), and a bouncer came over and told her to cease and desist. Why so mean? She was just having a little fun. Meanwhile they said nothing to the chattering group that were sitting just to our right. You know, you see a lot more of what's going on in the audience when you sit in the back. :-)
A personal treat for me was getting a chance to do a little catching up with David Nolte. The last time I saw him was in 2003 when he was in the David Gray Band. He looks exactly the same as he did then, but tells me his daughter (an infant in her mother's arms at the Iron Horse show in 1998) is now in college, and his son is graduating high school.
Another treat was stopping at the Arrow Diner for a late night snack after the show. How much bad food have we eaten over the years in all these late night restaurants? It was nice to get something really good to eat before heading back to the Cape.
Here is a page with a handy list of links to all pages on this website with content relating to Dave Davies and other members of The Kinks.
Click for 2017 Concert Page with links to all 2017 concerts ... Click for Main Concert Page with links to all years
Previous concert (Ten Strings and a Goatskin) ... Next concert (Ray Mason)