Previous concert (Graham Parker) ... Next concert (Kim & Reggie Harris)
Parsonsfield ~ 2017 May 12 ~ Fete Music Hall ~ Providence, RI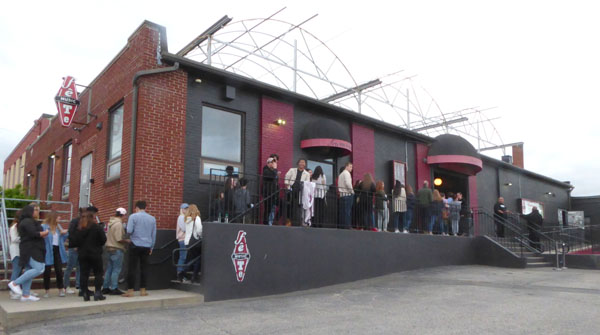 Fete Music Hall
Band Personnel: Chris Freeman (vocals, banjo, guitar, pump organ, harmonica), Antonio Alcorn (vocals, mandolin, banjo), Max Shakun (vocals, pump organ, guitar, accordion), Harrison Whale Goodale (vocals, stand-up resonator bass, electric bass, percussion, saw), Erik Hischmann (vocals, drums, xylophone, percussion, bass), Dave (don't know his last name) (pump organ on one or two songs). ... this band plays so many instruments, forgive me if I missed any
Everyone Dies - Footsteps In My Ear - Weeds or Wildflowers - {unknown drinking ballad} - Blooming Through the Black - Take Me Back to Summertime - The Hurry All Around - Across Your Mind - Ties That Bind Us - In Your Heart You Love Another {title?} - Stronger - Barbed Wire - Tear Down the Stage ... encore ... Empty Rocking Chair - Anita
Scroll to below videos for review of the show.
Footsteps In My Ear
Barbed Wire
Parsonsfield played a somewhat short, but very satisfying set at the Fete Lounge, a cozy and comfortable standing venue in West Providence.
I was happy to hear these five extremely energetic and talented young musicians play mostly their own tunes. Although this band got their start re-interpreting traditional folk songs with a modern flair, their music is very much still evolving, and they have really hit their stride as songwriters with the release of last year's Blooming Through the Black.
This band is truly one of New England's best kept secrets. They play an amazing array of mostly traditional folk instruments, but with a rock 'n' roll spirit and energy. Tonight's sixteen songs included about a half dozen from last year's album and other favorites from earlier in their catalog. I liked the venue, but unfortunately there was some noise that leaked in from the larger performance space in the other part of the building from a louder and apparently more popular band. Other than this problem (which was really only noticeable on one quiet song, the encore set's "Empty Rocking Chair,") this was a very good venue, with adequate on street parking right in the neighborhood. The venue was easier to find off of Rte. 195 than I was fearing. (Along with New Jersey and Somerville, Providence is one of the places I tend to get lost in when going to concerts.)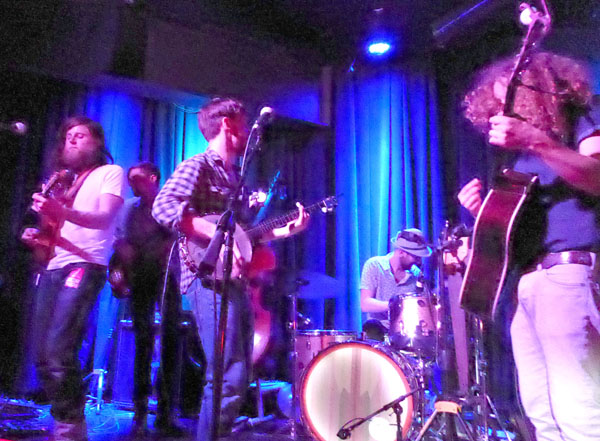 Parsonsfield
One of Parsonsfield's best songs is the fun and easy singalong, "Anita," which tells the story of a guy who is missing a girl who's gone to Providence for the night. Since we were in Providence, the band was more or less obliged to play this as the encore, and it was greeted with screeches of delight and vigorous audience participation.
The show was opened by a four piece band Animal Years, who played a 45 minute set of melodic and upbeat tunes. All four sang very well together -- a quality they have in common with the five singers of Parsonsfield.
Here is a page with a handy list of links to all pages on this website with content relating to Parsonsfield.
Click for 2017 Concert Page with links to all 2017 concerts ... Click for Main Concert Page with links to all years
Previous concert (Graham Parker) ... Next concert (Kim & Reggie Harris)