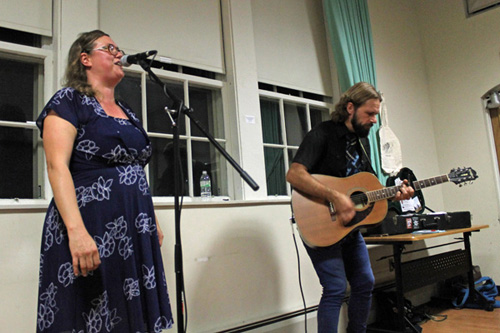 Pia Leinonen, Joni Tiala
Previous concert (New Bedford Folk Festival day 2) ... Next concert (Ray Mason Band)
Vellamo ~ 2017 September 8 ~ Jonathan Bourne Public Library, Bourne, MA
Pia Leinonen, vocals, harmonica; Joni Tiala, guitar
Scroll down the page to below the videos for review of the show.
Hymn by Finnish composer Sibelius
Traditional Finnish "lullaby" with singalong
Vellamo, a folk duo from Finland, performed a wonderfully entertaining and fun one-hour set at the public library in my town. Admission was free, and seating was in a very comfortable and full to capacity meeting room with space for about a hundred.
Pia Leinonen and Joni Tiala named their duo for the goddess of the sea in the mythology of Finland. Pia sings with a warm, expressive voice and tells interesting and often funny stories with subjects ranging from the duo's travels in America to the origins of the Finnish and Nordic folk songs that comprise much of their repertoire. She also plays harmonica on a handful of songs. Joni accompanies her on Epiphone acoustic guitar and is a stylish and melodic player. He also tosses in an occasional witty remark and on one song, made such funny faces the audience was cracking up.
The singing was in English for about half the songs, in Finnish or another Nordic language for the rest. About half the songs were originals, the rest were traditional folk songs. When about to sing in a foreign language, Pia gave some information about the content of the coming song. She also casually informed the audience about aspects of the history and culture of Finland, ranging from the beauty of the Northern Lights, to the nature of the Finnish language, to the 100th anniversary this year of Finnish independence. The music ranged from quiet and peaceful to uptempo and lively.
When pressed by her Finnish friends to describe what Americans are like, Pia has trouble summing up such a diverse nation in one word, but when she chose the word "hospitable," the entire audience gave out a happy, and I think surprised, sigh of approval. Many of the audience goers were of Finnish ancestry (myself included) and it was a special treat for us to catch a glimpse of Finnish culture, but everyone, Finnish or not, enjoyed this delightful folk duo. The library has scheduled a series of international folk concerts for the coming months, and I look forward to seeing more of these musical travelogs from around the world.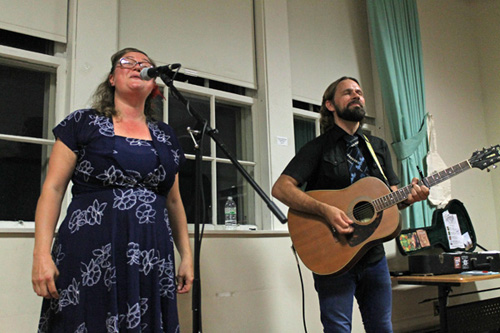 Pia Leinonen, Joni Tiala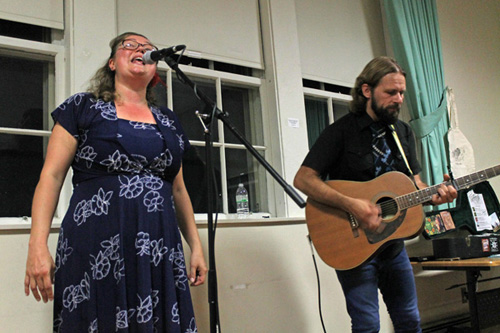 Pia Leinonen, Joni Tiala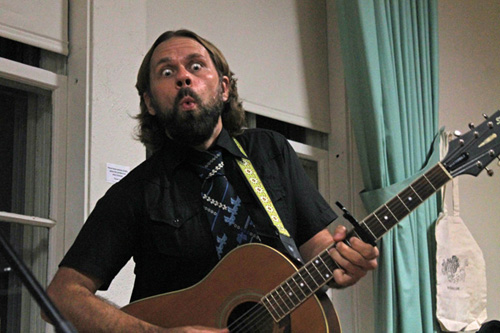 Joni Tiala illustrating a humorous song with facial expressions


Click for 2017 Concert Page with links to all 2017 concerts ... Click for Main Concert Page with links to all years

Previous concert (New Bedford Folk Festival day 2) ... Next concert (Ray Mason Band)