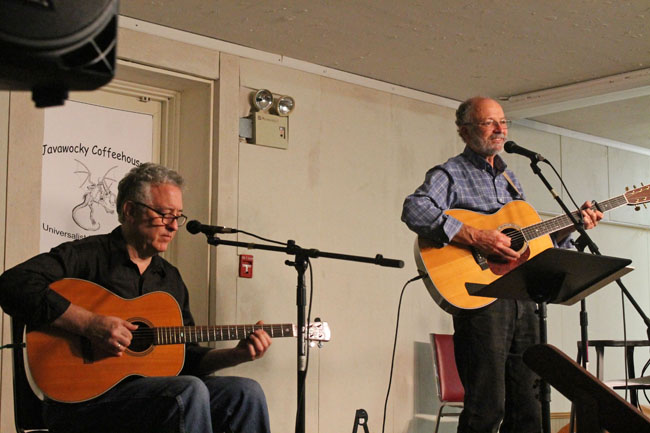 Seth Connelly, Tom Smith
Previous concert (Ray Mason Band) ... Next concert (Jez Lowe)
Tom Smith & Tom Irving ~ 2017 September 23 ~ Javawocky Coffeehouse, Brockton, MA
Tom Smith, vocals and guitar; Tom Irving, vocals, dulcimer, guitar; Seth Connelly, guitar, mandolin, backing vocals
Scroll down the page to below the video for review of the show and for a few more photographs.
"I Do the Best I Can" (Tom Smith with Seth Connelly)
The friendly and comfortable Javawocky Coffeehouse in the basement of the Brockton Unitarian Universalist Church was the setting for a very enjoyable folk concert with performances by two Toms, Smith and Irving.
Tom Smith is an established folkie on the local scene with a delivery and songwriting style straight out of the Pete Seeger school. His singing is sweet and melodic, and his songwriting very diverse. His set of a dozen original songs ranged from the very humorous ("Lick My Face") to the very serious ("Liberty and Justice for All") to the very personal ("Phil's Guitar"). When Tom opened for Kim and Reggie Harris here in the spring, he was so impressive that Kim and Reggie had him come up on stage to reprise one of his songs while they sang backup. After seeing a longer set of his, especially with the beautiful backup playing and singing from Seth Connelly, count me in as a Tom Smith fan.
Tom Irving is an up and upcoming singer/songwriter with a deep, pleasant singing voice. He accompanied himself on guitar and dulcimer and sang a couple of songs a cappella. Seth Connelly also joined in on a couple of songs with T. Irving. Tom made an impressive entrance by circulating through the audience singing "Tennessee Waltz" a cappella before he even went up on the stage. His set was a mixed bag of covers and originals. All three joined for an encore of "Blowing in the Wind."
Something new for Javawocky, the show was opened by a brief open mike with three performers. One was a woman (sorry I did not catch her name) who played guitar and then ukulele. The second was John Baptista, whom I have seen before accompanying Grace Morrison, who played two jazzy originals. The third was Seth Connelly, performing a song solo before accompanying the two Toms for the rest of the evening.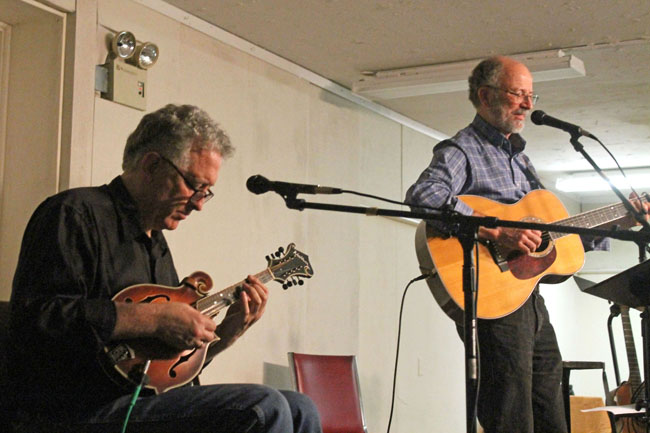 Seth Connelly, Tom Smith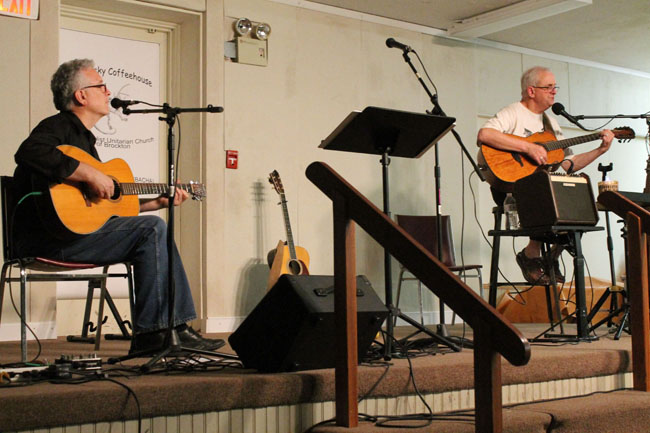 Seth Connelly, Tom Irving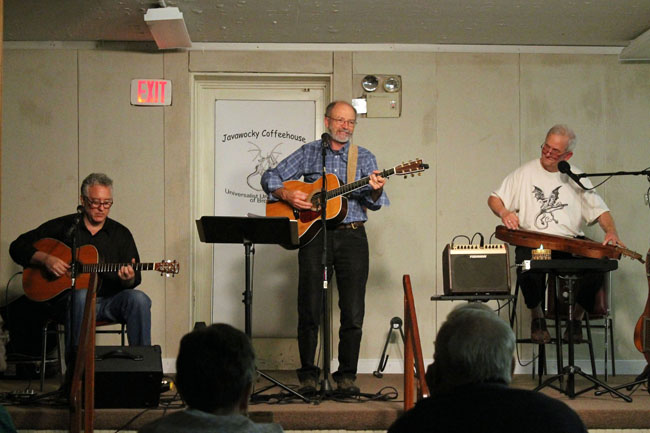 Seth Connelly, Tom Smith, Tom Irving


Click for 2017 Concert Page with links to all 2017 concerts ... Click for Main Concert Page with links to all years

Previous concert (Ray Mason Band) ... Next concert (Jez Lowe)