Previous concert (Willie Nile) ... Next concert (Willie Nile)
Sharkey and The Sparks ~ 2018 January 18 ~ Towne Crier Café ~ Beacon, NY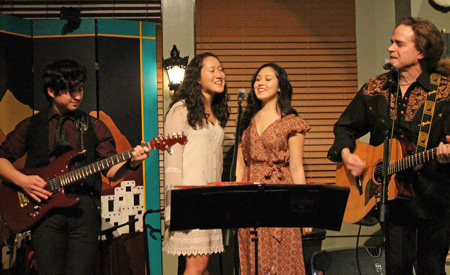 Ben McEwen, Ruby McEwen, Michelle McEwen, Sharkey McEwen
Click on the picture
for a photo gallery of the concert
Sharkey McEwen, vocals, acoustic guitar; Ben McEwen, electric guitar; Michelle McEwen, vocals; Ruby McEwen, vocals
The Wild One {Tom Petty} - Yahweh {U2} - More Heart Less Attack {Needtobreathe} - Everybody Wants To Rule the World {Tears For Fears} - Space Oddity {Bowie} - Pipeline {The Ventures} - Spirit Cold {Tall Heights} (with Michelle) - Be My Forever {Christina Perri} (with Ruby) - Misirlou {Dick Dale} - Gentle Hymn - Hold On - That's What's Up {Edward Sharpe And The Magnetic Zeros} (Ruby & Michelle on co-lead vocal) ... encore ... I'm Gonna Be (500 Miles) {The Proclaimers} (with Ben, Ruby, and Michelle)
Scroll down past the videos for review of the show.
Hold On [Sharkey's original song]
Other videos pending.
Sharkey McEwen and his teenage son Ben McEwen played a return engagement at Beacon's Towne Crier. They brought additional "Sparks" for this show, Sharkey's college age daughters Michelle and Ruby, who sang on several songs.
The set list included a few repeats from the the November show and a half dozen new introductions. These included two songs on which the daughters sang a duet with their dad, a lovely ballad "Spirit Cold" with Michelle, and a lively number "Be My Forever" with Ruby. Both daughters are excellent singers and, as is so often the case when family members sing together, their voices blended seamlessly with their dad's. The girls' divergent personalities matched the songs they performed; Michelle is the quiet one and sang on the quiet song; Ruby was more outgoing on stage, comfortably describing the song she was about to sing. Along with the Sharkey original ("Hold On"), the song that Ruby and Sharkey sang together was the evening's real highlight. Their voices were wonderful together, and although both Ruby and Michelle are headed off to overseas adventures as part of their college and professional experiences, I hope they can find space in their busy schedules to continue with music as well.
Speaking of talent in the family, Ben played even better than when we saw him in November. His confidence is greater, and he even bantered back and forth with Sharkey in an adult sort of way a few times. That kid has a future in music. Some of his friends from music, sports, and school were in attendance.
Sharkey himself is obviously having a lot of fun doing this. He performed the two original songs that he debuted at the November show, the lovely instrumental, "Gentle Hymn," and his song of affirmation and encouragement, "Hold On," which has thoughtful lyrics, a beautiful melody, and a rocking instrumental section that gave Ben a chance to show his stuff. The thirteen song set boasted a lot of variety, veering from modern ballads to sixties rave-ups and selections from Sharkey's favorite musicians of the modern era. Sharkey said that he and Ben have bonded over music from the '60s, '70s, and '80s, and it is obvious from the choice of the two surf instrumentals that Ben absolutely loves '60s guitar music. They began the show with a tribute to Tom Petty, a heartfelt rendition of Petty's "The Wild One," which Sharkey said was his favorite song from Petty's first album.
I was pleased to see that the venue was very full, even though it was a Thursday and another cold night, and the Hudson Valley got some snow yesterday. The audience included many personal friends as well as fans of Sharkey's from his other musical life, but there were some newbies in the crowd who had no particular expectations. They all seemed to enjoy the show. The only weakness in these shows so far is that Sharkey gets a little too wrapped up in the tech of it all. He uses some guitar loops, a harmony pedal, and I think there were one or two rhythm tracks in there. I think it would be a good idea for Sharkey to concentrate more on engaging the audience (he can be very witty and very informative about the songs when he takes the time to do so) and less on the tech, at least until the Sparks have played a few more shows.
I am told that the Sparks will be playing a gig at a different venue, a library in Hyde Park, NY, as part of an open mike series, on February 25. For info on this gig and more Sharkey and The Sparks, visit their website.
Here is a page with a handy list of links to all pages on this website with content relating to Sharkey McEwen and his band the Slambovian Circus of Dreams.
Click for 2018 Concert Page with links to all 2018 concerts ... Click for Main Concert Page with links to all years
Previous concert (Willie Nile) ... Next concert (Willie Nile)