Previous concert (Ray Mason) ... Next concert (Pete Donnelly with Brett Newski)
New Bedford Folk Festival - 2014 July 5 and 6 ~ various venues ~ New Bedford, MA
Scroll down past the videos for review.
"Power of Love" by Poor Old Shine (a.k.a. Parsonsfield)
"Mine" by Zoë Lewis
"Bicycle" by Zoë Lewis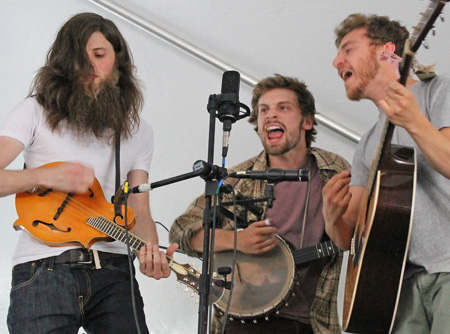 Antonio, Chris, and Max of Poor Old Shine
(soon to be renamed Parsonsfield)
click thumbnail to see a photo gallery of the festival
Concert Going Partner and I spent the weekend in the Whaling City, New Bedford, Mass., attending several concerts at the New Bedford Folk Festival. This festival is the best deal going. Advance tickets range from $15 (if you can buy locally) to $20 (online). That's not just for one show, or for one day; it's for the whole weekend!
Although we saw about a dozen different performers, the true revelation of the weekend was a 5-piece band from Connecticut called Poor Old Shine, who are about to change their name to Parsonsfield. They play obscure old folk songs sprinkled with a handful of amazing originals. The song "Anita" was especially good. A rousing lament by a young man whose intended date has skipped town, it includes an instant singalong and a sea-shanty-like call-and-response (away! away! away!); and it has the makings of a regional hit, since the girl has skipped town and gone to Providence, Rhode Island! Other songs range from wispy laments to rambunctious reworkings of old folk tunes, but not the ones you always hear. They have fished the depths of the ancient big book of folk to come up with some classic gems, and although some of them are about death and dying, these five musicians play with such energy and enthusiasm that they turn these ancient chestnuts into instant celebrations. Their singing is amazingly good, wondrous three-part and sometimes even five-part harmony. They play a dizzying array of fab instruments that include a mandolin that was once owned by P.T. Barnum, a resonator stand-up bass, a pump organ that's over 100 years old. They also have a drummer, which means they can't be "real folk" -- good! Oh! And did I mention that one of the musicians plays the saw? I refer you to their website at www.parsonsfieldband.com for more on this wonderful group of musicians. Go see them; it will make you happy.
The photo gallery to the right has many photos of one of their sets, and the videos above include one by Parsonsfield (formerly Poor Old Shine), a cover of Huey Lewis and the News' "Power of Love." It wasn't their most representative song but it's the one I managed to get a decent video of.
Another highlight of the festival was Grace Morrison and the RSO. Grace is a singer-songwriter living in Wareham, Mass. She played a set with a bass player and a fiddler whose names I did not catch. Her set included a couple of songs about the wives of King Henry VIII, including the lovely "Rose Without a Thorn," and others that featured historical characters. She has a lovely singing voice and plays both guitar and accordion. The photo gallery to the right includes some captures of her and her band.
The third highlight was a set on the second day of the weekend at the Whaling Museum by Provincetown's Zoë Lewis, a performer whose versatility is truly astounding. Her songs range from the very serious to the very silly (the two that I captured on video illustrate this range), and her instruments include keyboards, guitar, ukulele, kazoo, washboard, and bicycle bell. She is a wonderful singer and songwriter and tells life-affirming stories about experiences in the extreme end of Cape Cod and in other parts of the world.
At the Zeiterion Theater, we also caught sets by The Kennedys and by Chris Smither, both of whom were very enjoyable, but since the Festival reserved the first ten rows for the folks who had bought the expensive VIP tickets, we weren't able to sit close enough to get any pictures or video. Unfortunately this reserving of the rows backfired for everyone, since those front rows were mostly empty, and the actual audience began behind the reserved section. Hopefully next year the Festival will go back to reserving just one or two rows for the VIPs. This trivial complaint aside, the entire Festival was beautifully organized, with a rich variety of local and national talent; a weekend full of superb singing, playing, and storytelling.
Click for 2014 Concert Page with links to all 2014 concerts ... Click for Main Concert Page with links to all years
Previous concert (Ray Mason) ... Next concert (Pete Donnelly with Brett Newski)