Previous concert (Willie Nile Trio) ... Next concert (Ray Mason)
Parsonsfield ~ 2014 September 21 ~ Mitchell Farm ~ Salem, CT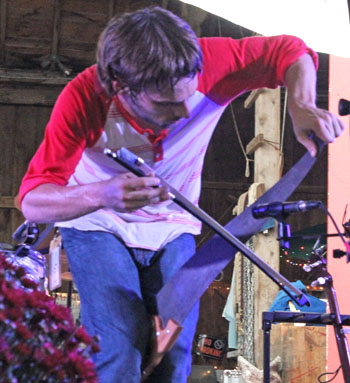 The saw is only one unusual instrument Parsonsfield uses
click thumbnail to see a photo gallery of the concert
Personnel: Chris Freeman (vocals, banjo, guitar, accordion, saw), Antonio Alcorn (vocals, mandolin, banjo), Max Shakun (vocals, pump organ, guitar, accordion), Harrison Goodale (stand-up resonator bass, electric bass, percussion, vocals), Erik Hischmann (drums, bass, vocals)
Scroll down past the videos for review.
"Don't Let Your Burden Touch the Ground"
"Hang Me"
Having seen Parsonsfield (the band formerly known as Poor Old Shine) at the New Bedford Folk Festival, Concert Going Partner and I were totally psyched to see them again. These five musicians play such an array of instruments it is really amazing, and they seem to be able to trade them among themselves in the blink of an eye. Accordions, banjos, guitars, mandolins all made the rounds among the three principal vocalists (Antonio, Chris, and Max). The most unusual instrument they play is the saw, played by Chris Freeman, who runs a fiddle bow (the wooden brace) along the non-business side of the saw, while holding onto the end of the saw and twisting it and moving it to get various ethereal wails and moans out of it. It makes a similar sound to that made by a theremin, without having to clear the area of people's electronics.
But if anyone mistook this for a novelty group, they would be mistaken. One gets a sense of not just a love for music history, but a burning passion that cannot be quelched. Max plays a 100+ year old pump organ, Antonio plays a 100+ year old mandolin. They play with wild abandon, and they move around on stage with a vigorous energy. But if one mistook this for just another high-energy Alt-Americana band, one would be mistaken, again. These guys have reached back into the history of folk music for some exciting rarities, which they have adapted to their own particular sense of joy (even when the lyrics are about death and dying) that turns every song they perform into a celebration. They also perform a number of originals that points to a bright future of creating their own new music as well as re-interpreting traditional songs. Their singing, and their harmonies, are extraordinary, whether it is just Chris singing by himself (he is the closest to a band leader they have, in a very democratic group), or the three principal singers (Chris, Antonio, and Max), or all five of them together.
Parsonsfield has played the Mitchell Farm Music Festival twice before, and were familiar to most of the large and enthusiastic audience. The venue is a farm for retired horses. A large tent was set up on the grounds with plenty of room for lawn chairs and blankets. Pizza and other food was for sale by food vendors on the grounds. It was an unusual and fun venue.
The show was opened by a band called The Shinolas, four very talented musicians who played country songs on guitar, bass, pedal steel, and drums. The Mitchell Farm booking agent probably thought they were being really clever, scheduling a show with The Shinolas and Poor Old Shine (and then Poor Old Shine went and changed their name). The five members of The Shinolas joined Parsonsfield for a few songs toward the end of Parsonsfield's set, creating a really big sound, as there were two sets of drums and two basses, and the lead guitar added an additional element to Parsonsfield's songs including "Hang Me" (which I filmed, see video above).
Check out Parsonsfield's website when you get a chance. They are definitely an up and coming band that will appeal to anyone who likes uptempo, joyful music inspired by the folk tradition.
Click for 2014 Concert Page with links to all 2014 concerts ... Click for Main Concert Page with links to all years
Previous concert (Willie Nile Trio) ... Next concert (Ray Mason)